Snapchat is currently the most popular social media platform, Since its launch, September 2011, Snapchat has over 280 million daily active users and daily 10 billion video views.
Snapchat allows users to share temporary, video, self-destructing pictures, and messages (also known as "Snap"). You can view snaps for one to 10 seconds and the user can elaborate each snap with the caption, filters, drawing, and stickers. And one's you viewed any snaps or message it's gone forever
Setting up Snapchat
Snapchat is a free application you just simply download from the Google Play store or the App Store. Once you downloaded and installed the app, Open it on your phone.

Now you can see two options: login and Signup, if you want to create an account then tap on the "Signup" button. For creating an account on Snapchat you need to be at least 13 years old. Otherwise, you will be redirected to a restricted version of Snapchat called "Snapkidz".

For over 13, then enter your email address and Date of birth, and will be asked to choose the username. Choose your name very carefully because you can't change it later.
Snapchat Features
Snap
A snap is a picture or video that you send to one or more of your friends. All Snaps (picture or video) are automatically deleted once they are viewed. A Snap video can be a max of 10 Seconds.
If you send a snap to your friend and your friend does not open it for 30 days, the snap will disappear.
Story
A story is a collection of Pictures and Videos that played one after the other. It can be viewed by your Snapchat friends. The Duration of the Story is 24 hours after posting.
Snapstreak
Snapstreak captures pictures and videos and sending them to your friends for the 3 days you are on a snap streak. If you see an emoji next to your friend's name it indicates snap streak is starting and numbers show how many days of the snap streak.
Filter
Snapchat Filter is special effects that are apply on snaps, Filter can change based on location, day, events, or holidays.
GeoFilter
Geofilter is a Special and unique filter that is applied on snaps that can be accessed in a certain location. To enable this feature you have to Turn on your location.
Chat
Snapchat is not just for sending snaps to your friends. It can also be sending Text messages to individuals and in groups, In chat you will send Audio messages, making video call. Chat will disappear after being viewed.
Memories
If you capture a snap and save it. These snaps are stored in memories. It is just like backing up your stories and snaps.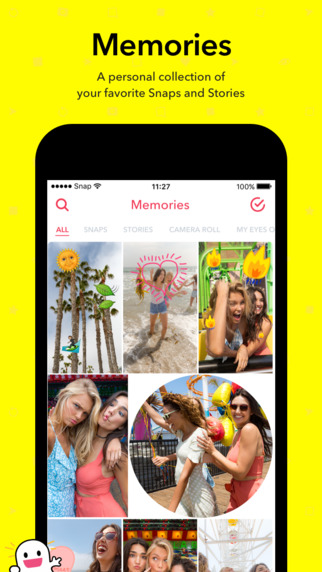 Friends Page
If you want to talk to your friend or to watch their stories you just simply swipe left from the main screen to view this page. On this page, you will see all your friends.
Discover Page
If you want to see stories of other creators and publishers you have subscribed to, you just simply swipe left.
Snap Map
Snap map is a location-sharing feature. In this, you will see where your friends are hanging out. if they share their location. In the snap map, you will share your location with your friends.
Also Read: AppLock App Review