When people think about editing their videos, they generally use their default phone applications for video editing, which usually do the job. Still, if someone wants to try something amazing with their smartphones, they need to search for apps with a video editing specialty. And they will find a lot of apps in the play store, but not all of them are as good as KineMaster.
KineMaster is a professional and fully-featured video editing app for iOS and Android supported devices. This app comes with exciting features and multiple tools for accurate trimming and cutting of audio, text, images, video, and effects. This app supports multiple layers of video, audio, images, texts, and effects. It is prepared with a variety of tools that allow users to create high-quality videos.
Editors have supreme control over their videos mainly when it comes to trimming them while using the KineMaster app. It allows them to trim by frame, allowing them to be ultra-precise in their transitions and effects.
Furthermore, KineMaster videos can be directly shared to social media platforms like YouTube, Facebook, Google+, Instagram, and more. This makes it effortless, especially for professionals, to publish their videos and reach their audiences.
App Description
This app is user-friendly and easy to use even though it is your first time using this app. To use this app below are the complete steps and instructions:
KineMaster App Feature
The core benefits of KineMaster are its rich feature set, flexibility, and ease of use. Here are some benefits in detail.
Mobile Video Editor
Ultimate video editing does not have to be limited to laptop and desktop computers. With KineMaster, professionals and amateurs similar have access to tools that allow them to create splendid videos with multiple effects on their mobile devices.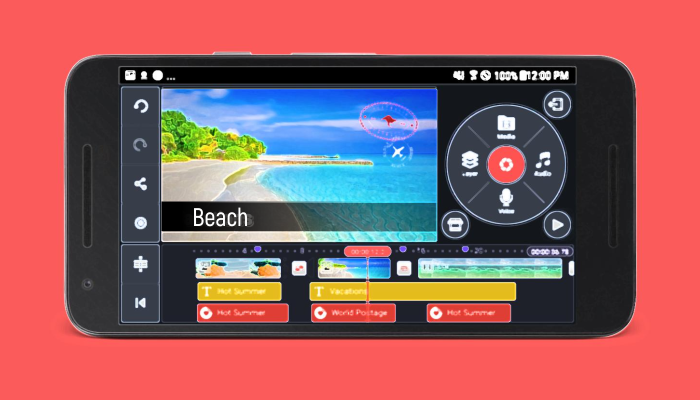 This permits them to be productive and lets them work on their ideas even while they are on the go.
User-Friendly
KineMaster is your on-the-go video editor, giving you access to several tools for creating outstanding and pro-level videos.
This mobile application lets you work on your ideas and apply them to your videos. While most video editing applications are limited to laptop and desktop computers, the KineMaster app is created for mobile devices that make editing less hassle.
Multi-Layered Videos
This application supports multiple layers of videos, audio, texts, images, handwriting, and more. These can be easily controlled so that their transitions are accurate, allowing editors to achieve the effect that they want.
Real-Time Recording
Recording the audio and video can be made in real-time right within KineMaster. This permits the users to directly add effects or adjust the video without having to wait for the recording process to be completed. The same can be done with audios, adding multiple tracks on audios is also made easier with this application.
Easy and Flexible Adjustment Tools
Aside from real-time audio and video recording, KineMaster also facilitates users to adjust the saturation, brightness, colors, and other similar settings of the video. By using adjustment tools and settings, you can create a cool and reliable atmosphere in your videos.
Social Media Sharing
KineMaster is ideal for advertisers, publishers, influencers, and for those who like to showcase their creativity to the world. That is because they can share their video on social media channels instantly from the video editing platform, allowing them to reach their audiences rapidly.
KineMaster App Detail
App Name: KineMaster
File Size: 95 MB
Current Version: 5.0.8.21442.GP
Devices: Android devices, iPhone and web-based
Price: Free
Pricing structure: Free
Release date: April 28, 2013
Category: Video players and editors
Developer(s): KineMaster
Publisher: KineMaster Corporation
Minimum software requirements: Android 6.0 and up and iOS v11.4 or later
Last updated: June 15, 2021